Franz Fuchs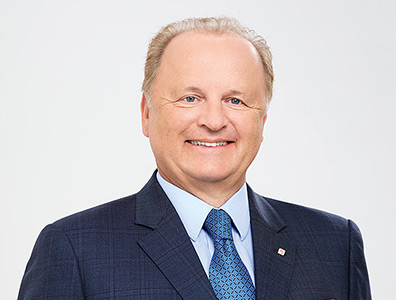 Franz Fuchs began his career in the insurance industry as an actuary. He held leading management positions in other international companies as a specialist in the life insurance area and pension funds before joining VIG Insurance Group. From 2003 until early 2014, Franz Fuchs was Chairman of the Managing Board of Compensa Non-Life and Compensa Life in Poland. He has been Chairman of the Managing Board of VIG Polska since 2003. He was first appointed to the VIG Holding Managing Board on 1 October 2009. In recognition of his many years of dedication and outstanding service for Poland, Romania, the Baltic states, Ukraine and Moldova, Franz Fuchs was appointed Deputy General Manager effective 1 October 2019.
Areas of responsibility: Motor and Property Insurance
Country responsibilities: Moldova, Poland, Romania, Ukraine
Supervisory board positions or comparable positions in other Austrian and foreign companies outside the Group: C-QUADRAT Investment AG
Franz Fuchs is also active in the Supervisory Boards of significant* Vienna Insurance Group companies: Compensa Life (Poland), Compensa Non-Life (Poland), InterRisk (Poland), Omniasig (Romania).
*All companies that contribute at least 2% of written premiums and at least 2% of profit before taxes are considered to be "significant".