Thinking about the future
We think in terms of generations. Our business today is not just aimed at tomorrow, but at the future. Our expansion into the CEE region is an example of our forward thinking. Vienna Insurance Group was not just the first Austrian company in Central and Eastern Europe, but also one of the first private sector insurance companies in the region. Today we have a leading position there.
The future always begins now, today, because the path to long-term success is decided today. VIG's strategic "Agenda 2020" work programme was developed with this in mind. VIG is using it to promote digitalisation projects, expand promising lines of business and considers insurance solutions today that will become commonplace in the forseeable future.
This year's Group Annual Report has the title "Today" and reports on important events in 2018 and the path into the future. Our Sustainability Report is titled "Tomorrow", as CSR activities have inherently a longer term perspective. Our "The Future" poster, which you can view and order at www.vig.com/future2028, presents a scenario for the insurance world as we imagine it ten years from now.
TOMORROW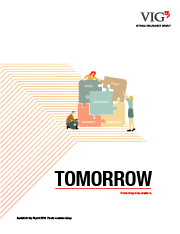 By definition, acting sustainably means acting for the future. It sets the steps today that will make an impact only tomorrow. These steps should be carefully planned, as they affect a large number of target and stakeholder groups. VIG therefore uses a well-founded long-term CSR strategy. Further information is available in the Sustainability Report 2018 and at: www.vig.com/corporate-responsibility
THE FUTURE
Radical changes lie ahead in the insurance industry, which makes it essential to look at trends. Our future scenario for 2028 provides information on potential developments that VIG is already preparing for.
Our goal is to make this Group Annual Report as easy to read and as clear as possible. For this reason, words like him/her, etc. have been avoided. All references in the text are to be understood as referring equally to men and women without discrimination.
All VIG publications are available at www.vig.com/orderservice