More growth and more solidarity
Dear Shareholders, Ladies and Gentlemen!
Looking back on 2022, I look back on a year in which we have all been concerned by the war in Europe. We all saw the news of the past year and are aware that media generally focuses on events that are decidedly less positive. In addition there was the catastrophic earthquake that hit south-east Türkiye and various regions of Syria. It is for this very reason that, in my message to you, I want to look in particular at what has gone well, including at what we are able to influence what affirms our trajectory so far and what gives us confidence in what is to come.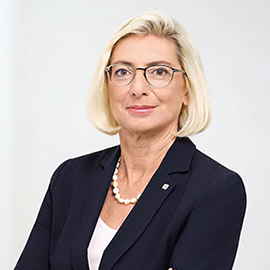 Great levels of solidarity are clear to see within our Group
Embodying solidarity
We live a strong sense of solidarity within our Group. The employees in our companies have shown exceptional proof of their solidarity with their Ukrainian colleagues and their families. I would like to express my profound respect for all of our employees – especially those in Ukraine, who continue to be there for our customers. Not forgetting those in all other companies who are involved in numerous aid initiatives. For instance, we have set up the VIG Family Fund, which will contribute to rebuilding Ukraine in the medium and long term. We also responded immediately to the devastating earthquake that struck Türkiye and Syria in early 2023, providing emergency aid in the form of financial support.
Great potential in the CEE region, Resilience through diversity
VIG is the largest insurance group in Central and Eastern Europe, and we want to expand our leading position. We believe in the long-term potential that our home region has to offer and in the continued strong economic growth in the CEE region, which is above that of Western Europe. We have the economic strength and necessary stability for overcoming challenges. Whereas our Polish companies were impacted to a greater extent by the subdued economy during the reporting period, the Austrian and Czech markets performed very well indeed. The Romanian market has also shown itself to be more attractive, as a result of the withdrawal of a competitor from the market. In all of our markets, we want to support our stakeholders as a reliable partner and to keep growing. To do this, we place great importance on diversity within the Group as this is what makes us innovative and flexible and ensures that we can be close to our customers.
Successful acquisitions from Aegon
In 2022, we were able to achieve our goal of expanding our market leadership in Central and Eastern Europe thanks to our acquisition of the companies in Hungary and Türkiye that were previously owned by the Dutch Aegon Group. This acquisition makes us the market leader in Hungary, where the Group not only grew by 1,000 employees, 1.5 million customers and EUR 311 million in premium volume, but also benefits from new opportunities in Asset Management and the Pension Funds business. The expansion also contributes to our goal as set out in our strategic programme VIG 25: more value creation by further expanding our business model beyond the insurance sector.
Setting the course: ready for the future
As Chairwoman of VIG's Managing Board, Elisabeth Stadler's work always focused on the long term. Having joined in 2016, the measures implemented during her time as head of the company have made VIG more digital and more sustainable and will continue to have a positive impact on the company's development into the future. She has decided not to renew her contract in June 2023.
2016
Start of the strategic work programme Agenda 2020. Over the course of five years, operational performance is improved and new business opportunities are seized.
2017
VIG Xelerate is held for the first time. This internal innovation competition drives digital transformation and promotes the transfer of knowledge across the Group.
VIG publishes its sustainability strategy and a sustainability report for the first time.
2018
Cooperation agreement with Erste Group is extended to 2033.
2019
VIG exceeds a premium volume of

EUR 10 billion

for the first time.
The VIG Climate Change Strategy is published and contains strict investment and underwriting policies for the coal sector.
2020
Thanks to early digital transformation efforts VIG deals well with the COVID-19 pandemic. The working model for employees is made permanently more flexible, with working from home introduced to the benefit of all.
2021
Start of the new strategy programme VIG 25. Sustainability targets are embedded at a strategic level for the first time.
VIG is the first insurance company in Europe to issue a sustainability bond. The net proceeds totalling around

EUR 500 million

are invested in social and environmental projects.
2022
VIG on course for expansion: The companies in Hungary and Türkiye that were previously part of Aegon are acquired successfully. VIG becomes the market leader in Hungary.
A good handle on inflation
As part of our strategic programme VIG 25, we are continuing to work on increasing the efficiency of our processes. This is a key part of cushioning the impact of the increased claims handling costs. In addition, negotiations with our partners – such as car repair stations – help to alleviate cost pressure. Moreover, we are currently still recording fewer claims in the motor sector than before the COVID-19 pandemic.
Premium payments in our largest markets will be automatically adjusted to developments, such as to the consumer price index. In other markets, we predominantly have single-year agreements, which offers another opportunity for premium adjustments. On the whole, VIG has a good handle on the challenge posed by high inflation, as demonstrated by the combined ratio, which was 94.9% at the end of the year.
A positive personal summary
I have held the position of Chairwoman of VIG since 2016 and it has been a great pleasure to do so. However, I will not be extending my employment contract when it expires in June 2023. I would like to thank all of my colleagues at VIG for the successes we have achieved during my tenure. We have achieved many great things together in the last seven years, and we have been able to continually improve our important key figures. In 2022, premium volume rose to EUR 12.6 billion and our pre-tax result climbed to EUR 562.4 million. In light of this positive business performance, we also want to offer our shareholders an attractive dividend and will recommend to the Annual General Meeting an increase of 4.0% to EUR 1.30.
In its first five years, the strategic work programme Agenda 2020 laid the foundations for continued success in the future, both in terms of digitalisation and the focus on sustainability. We have also implemented numerous initiatives, from closed file review, anti-fraud management and the expansion of the Assistance area through to new product ideas. The strategic programme VIG 25 focuses on more efficiency, greater proximity to our customers and more value creation. In addition, we were drawing up a Group-wide sustainability programme in conjunction with VIG 25 that sets out objectives and measures in the reporting period. This sustainability programme is created in collaboration with various experts from VIG Holding and all Group company CEOs and in consideration of special local requirements. We aim to finalise this in 2023.
Confidently into the future
There is a lot in store for 2023 – both expected and unexpected. The new financial reporting standards IFRS 9 and IFRS 17 entered into force on 1 January 2023 and will change the way that we present our results in the future. However, the new financial reporting defined by IFRS 9/17 will not have any impact on VIG's strategy or business model.
VIG is well prepared for the future and has a very experienced Managing Board. I am delighted that my colleague on the Managing Board, Hartwig Löger, with his profound knowledge of the insurance sector and of the CEE region, will assume the position of Chairman in mid-2023. Together with the Managing Board and our roughly 29,000 employees, he will ensure that VIG will continue to distinguish itself through success and reliability and keep its promise: Protecting what matters.
Elisabeth Stadler
Chairwoman of the Managing Board