Highlights 2022
The sense of solidarity within VIG was particularly valuable in the 2022 financial year. We faced the challenges together, with excellent results and strong growth to show for ourselves by the end of the year.
Letter from the
chairwoman of the managing board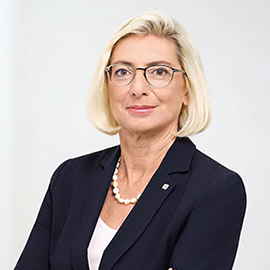 Hartwig Löger & Peter Höfinger
introduce themselves
Chairwoman of the VIG Managing Board Elisabeth Stadler will not be renewing her contract, which expires in June 2023. Hartwig Löger will succeed her as of July, and Peter Höfinger will become the new Deputy Chairman of the Managing Board. Both are leading experts in the insurance market and the region of Central and Eastern Europe — as well as enthusiastic family people. In the short videos, Hartwig Löger and Peter Höfinger tell us more about themselves, their values and their understanding of VIG!
Hartwig Löger
Boasting 38 years' experience in the insurance industry, Hartwig Löger will take on the position of General Manager and Chairman of the Managing Board in July 2023.
Peter Höfinger
Having been a member of the VIG Managing Board since 2009, Peter Höfinger will assume the role of Deputy General Manager and Deputy Chairman of the Managing Board in July 2023.
Key events and developments in 2022
Personnel Changes
In mid-2023, VIG Chairwoman Elisabeth Stadler and Managing Board member Peter Thirring will reach retirement age and will therefore not be extending their current terms. From 1 July, the Managing Board of Vienna Insurance Group will be made up of Hartwig Löger (General Manager), Peter Höfinger (Deputy General Manager), Liane Hirner (CFRO), Gerhard Lahner (COO), Gábor Lehel CIO) and Harald Riener. The leadership team has a wealth of experience and has been working together to lead VIG for a number of years.

Both our new General Manager, Mr Löger, and his Deputy General Manager, Mr Höfinger, have decades of experience in the insurance sector and deep knowledge of the Central and Eastern European markets. Mr Löger has previously spent five years as head of sales at Donau Versicherung and was CEO of Uniqa Österreich AG. He was the Minister of Finance for Austria from December 2017 to June 2019. Subsequently, he worked in an advisory capacity for Wiener Städtische Versicherungsverein, which is VIG's principal shareholder. He has been a member of the VIG Managing Board since January 2021. In this position, he has led the development of the new strategic programme VIG 25, which sets the Group's main strategic focus areas for the years to come.

Mr Höfinger held positions on managing boards, including the role of chairman, of insurance companies in the Czech Republic, Poland and Hungary before joining the managing board of Donau Versicherung. He has been on the VIG Managing Board since 2009.

Together with all employees of the VIG companies, the new Managing Board will ensure that VIG continues to develop in a sustainable manner.
New Management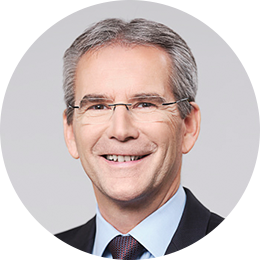 As the largest insurance group in the CEE region, VIG will continue to represent stability and sustainability into the future.
Name: Hartwig Löger
Year of birth: 1965
Position from July 2023: General Manager and Chairman of the Managing Board
On the VIG Managing Board since: January 2021
Industry expertise: 38 years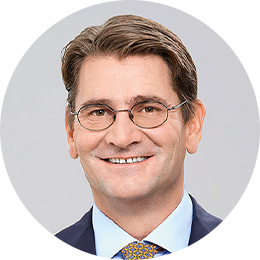 For us, diversity is a success factor, a fundamental value and something we live by.
Name: Peter Höfinger
Year of birth: 1971
Position from July 2023: Deputy General Manager and Deputy Chairman of the Managing Board
On the VIG Managing Board since: January 2009
Industry expertise: 25 years
Acquisition
VIG is the largest insurance group in Central and Eastern Europe. The Group's aims include further consolidating its leading position through acquisitions and achieving a top three position in every CEE market (except Slovenia) by 2025.
Highlights
Successful acquisition of Aegon companies
In March 2022, VIG Holding acquired the Hungarian business of Dutch company Aegon after approval by the local Hungarian authorities; the 45% participation of the Hungarian state holding Corvinus in VIG's Hungarian business was also closed successfully. The acquisition meant that VIG was able to achieve its goal of being in the top three in the Hungarian market by 2025 as early as 2022 and assume its position as market leader in Hungary. The closing in Türkiye was also completed in April 2022. For the acquisition of the remaining Eastern European business of Aegon with companies in Poland and Romania, only the approval from Romania is pending for a closing.
Expanding the business model
VIG is expanding its business model as part of the VIG 25 strategy programme. Being more involved in the pension fund business and establishing ecosystems will ensure greater added value.
Highlights
Slovakian VIG company Kooperativa enters pension fund business
By taking over the Slovakian pension fund company 365.life, VIG insurance company Kooperativa is expanding its range of services to include occupational pension provision in Slovakia. This will enable customers of Kooperativa and 365.life to benefit from a wider range of products and services in the future. 365.life was previously part of the 365.bank Group and has many years of experience in the investment of savings on the financial and capital markets. The company has a market share of around 5% and manages the pension funds of approximately 125,000 customers, with a total volume of more than EUR 500 million.
World Bank Group member IFC acquires stake in VIG's Bulgarian pension fund Doverie
International Finance Corporation (IFC), a member of the World Bank Group, takes a stake of around 10% in Doverie, the pension fund in Bulgaria in which the VIG holds a majority stake. The cooperation aims to strengthen and jointly further expand the Bulgarian pension insurance market. With IFC on board, which contributes its global expertise in this business segment, we can jointly contribute even more efficiently to the necessary strengthening of private pension provision in Bulgaria.
New assistance company founded in Serbia and expansion of services to Georgia
VIG Group's goal is to offer assistance services via its own companies rather than third-party companies. VIG Insurance Group continued to expand dedicated companies for digital customer service with the establishment of GLOBAL ASSISTANCE D.O.O. BEOGRAD in July 2022. Assistance services have also been expanded to Georgia since September 2022. This means that customers of the VIG Insurance Group are now supported by the Group's own service companies in eleven countries. The service companies handle a total of more than 600,000 assistance cases per year.
Cooperation with GROPYUS – ecosystem for sustainable and affordable housing
VIG Holding has signed a cooperation agreement with the Vienna-based international PropTech company GROPYUS. GROPYUS plans, builds and manages buildings. Sustainable materials, especially wood, reduce the environmental footprint, while automation and digitalisation reduce costs. GROPYUS wants to make sustainable and, in the future, affordable housing possible for everyone. VIG Insurance Group is supporting GROPYUS with insurance, assistance services, financing and the company's planned expansion to Central and Eastern Europe.
Customer proximity
VIG wants to offer its customers more benefits with new communication channels and innovative services.
Highlights
New customer experience centre of competence
VIG launched a customer experience centre of competence for the entire VIG Group in January 2023. It is part of the VIG 25 strategic programme that VIG is using to create additional benefits for customers, among other things. The aim of the centre of competence is to define uniform parameters and tools for all companies to measure and improve customer satisfaction. There are also plans to establish a "Voice of the Customers" community for the exchange of best practices.
Digital bancassurance
VIG Group cooperates with Erste Group in eleven CEE countries. In 2022, this collaboration generated premiums worth around EUR 1.4 billion. In addition to traditional bancassurance, such as in-branch, Erste Group now offers VIG products via its "George" digital platform in six countries — Austria, the Czech Republic, Slovakia, Romania, Hungary and Croatia. A total of around 175,000 contracts were concluded online via George in 2022. In addition to classic credit insurance, a wide range of property and casualty insurance policies are also offered, especially travel insurance.
Capital market
The capital market has been impressed with VIG's reliability for almost three decades. To date, shareholders have received dividends every year without fail.
Highlights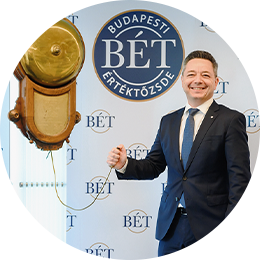 VIG shares on the Budapest Stock Exchange
VIG shares have been listed on the Vienna Stock Exchange since 1994 and on the Prague Stock Exchange since 2008. And, since November 2022, the shares are also traded on the Budapest Stock Exchange. By taking this step, VIG aims to gain new investors in Central and Eastern Europe in particular.
Rating: A+ with stable outlook
The international rating agency Standard & Poor's (S&P) reconfirmed its "A+" rating with a stable outlook for Vienna Insurance Group. This means that VIG remains one of the companies with the best rating in the Austrian Traded Index (ATX) of the Vienna Stock Exchange. The rating agency maintains its rating of VIG's business profile as strong and the financial risk profile as very strong. As the market leader in Austria and multiple CEE markets, Vienna Insurance Group continues to benefit from the upswing in insurance markets and from its geographic and business diversification. S&P once more highlighted VIG's excellent capital resources. The long-standing cooperation with Erste Group in the field of bancassurance is also positively highlighted.
Vienna Insurance Group successfully invests half a billion euro in green and social projects
In March 2021, VIG became the first insurance company in Europe to issue a benchmark sustainability bond. Just one year after it was issued, the entire EUR 500 million in proceeds had been invested in sustainable projects. Around 80% went to green projects and 20% to social projects.

A detailed report on the allocation and impacts of the Sustainability Bond is available in English on the VIG website via this link.
Successful bond placement
At the beginning of June 2022, Vienna Insurance Group AG Wiener Versicherung Gruppe successfully placed Subordinated Fixed to Floating Rate Tier 2 Notes with scheduled maturity in 2042 in an aggregate principal amount of EUR 500 million with institutional investors in Austria and abroad. At the same time, VIG made an offer to repurchase the subordinated notes issued in 2013 (ISIN: AT0000A12GN0) and repurchased Notes with a total nominal value of EUR 215.6 million. All details at: www.vig.com/bonds
VIG share performance in 2022
Despite VIG's strong operating result in a challenging environment, the uncertainties surrounding the CEE region as a result of the war in Ukraine and in combination with the sharp rise in inflation and concerns about a recession led to VIG shares closing at a price of EUR 22.35 as of 31 December 2022. This corresponds to an overall annual share performance of -10.2%. This, in turn, means that VIG shares performed significantly better than the ATX index, which came under pressure – particularly as a result of the losses of heavily weighted bank shares – and ended the 2022 financial year down 19.0%. On the whole, the insurance industry performed noticeably better than the STOXX®Europe 600 Insurance index and, at just -1.0% for 2022, was only slightly below the end-of-period price for the previous year.
Digital Innovations
VIG has made a start on the digital transformation early and systematically. The Group is using digital innovations to work even more efficiently and develop new services for its customers.
Highlights
VIG Xelerate: Celebrating innovation
28 innovation projects by teams from 22 VIG companies: 2022 saw the Group's VIG Xelerate innovation competition receive more entries than ever before. VIG's cooperation partner Plug & Play, the world's largest innovation platform based in Silicon Valley, helped to assess the projects for the first time. VIG Xelerate has been awarding prizes to particularly promising ideas, offering financial support for their realisation, and thereby promoting a culture of openness and innovation in VIG since its launch in 2018.
VIG Xelerate: Winning projects
The following three digitalisation projects were among the winners in 2022:

Wiener Städtische (Austria) with "360° View": The aim of the project is to increase customer satisfaction by creating a comprehensive customer profi le that is updated in real time and enables customers to receive personalised information and offers via different channels.
Compensa Life (Baltic states) with "Automated Policy Lifecycle": Artifi cial intelligence (AI) will be used to respond to claims and other requests relevant to customers more quickly in the future.
Omniasig (Romania) with "Omni Cockpit": The project is aimed at increasing direct sales by, among other things, linking existing data to further
Rapid claims processing with AI
Claims processing in the motor vehicle business is usually a drawn-out process requiring cooperation between different parties. A digital solution to this has been developed by Beesafe, an insurance start-up founded by VIG Holding and the Polish company Compensa. After filing a claim, policy holders receive a web link to which they can upload photos of the damage. A basic AI program then analyses the damage and estimates the repair costs. Beesafe experts check the proposal and forward it. This process takes less than ten minutes for a regular claim, compared to the previous waiting time of several days.
Digital household insurance
Austrian company Wiener Städtische has added two new products to its online product range in 2022. The "living.up" and "living. up – now" household insurance policies can be purchased with just a few clicks. Customers receive all the necessary documents by email as soon as the policies are concluded. Insurance coverage already begins starting as of the next day. Household insurance can also be purchased online from the Austrian company Donau Versicherung since 2021. Its "Wohnen- Next" focuses on innovative design and user-friendliness.
Efficient underwriting platform
Since summer 2022, the Czech insurance company ČPP has offered a digital underwriting platform for companies where underwriters can prepare insurance coverage quickly and easily. In addition to making the process faster and more userfriendly, the platform also reduces costs and the risk of potential errors.
Quick motor vehicle insurance
Romania-based Omniasig is making it easier to take out motor vehicle insurance. Potential customers can upload photos of their vehicle using a proprietary app. A basic artificial intelligence program detects features of the car, such as any existing damage, and performs a digital risk inspection.
Digital customer portal
Donau Versicherung has developed a digital customer portal that offers a range of digital services: an overview of insurance contracts and potential claims, digital policies, loss reports, invoice submission and a quick way of contacting the customer service team. Wiener Städtische also launched a digital customer portal in 2022. With just one click, you can see an overview of all policies and claims. New documents are delivered directly to the mailbox and claims can also be reported quickly and easily. Advisors can also be contacted directly via the portal. The login details can also be used for the "losleben" app, meaning that customers are always able to choose the communication method that is most convenient for them. In addition to its website, Bulgarian company Bulstrad Life has been offering its health insurance customers an online platform with special services for many years that has since been permanently expanded and is now also available as an app since 2016. "B-Assist" enables customers to take out new policies, book doctors' appointments and submit claims for reimbursement, for example. Features such as a chatbot are available to assist with questions.
"losleben" is the most popular insurance app
The Wiener Städtische "losleben" app was named Austria's best insurance app for the second time in a row based on a survey by the test institute ÖGVS. "losleben" received an excellent 13th place out of a total of more than 450 apps examined across all sectors. Customers can use "losleben" to submit doctor's bills and medicine receipts, as well as household, homeowner and motor claims.
Digital Assistance Network
VIG has a proprietary software system for assistance cases; this system is used by the dedicated assistance companies to organise and process digital services. In addition to managing assistance cases, the VIG companies can monitor customers' service cases with precision using GPS tracking, allowing them to provide assistance as quickly as possible. Furthermore, customers have the option to track the services online and respond efficiently. Since the beginning of 2022, assistance cases within the participating VIG countries can also be processed digitally networked and provide policyholders with fast and precise assistance even when abroad. Whether it's a car accident, a breakdown or an injury suffered during a holiday, the Global Assistance call centre can locate VIG customers as necessary and quickly organise assistance, even if they are on holiday and not in their home country. Assistance services are offered for motor, travel, household and health.
Solidarity
Around 29,000 people from 30 countries work together in VIG. Diversity and solidarity are two of the Group's fundamental values.
Highlights
Solidarity with Ukraine
Immediately after the Russian attack on Ukraine, VIG's companies started working on aid initiatives for their Ukrainian colleagues and their families. Several employees volunteered their time, gathered aid supplies and offered accommodation to refugees. The VIG Managing Board set up the VIG Family Fund with a starting donation of EUR 5 million. Further information is available in the Sustainability Report starting on page 56.
Support for those affected by earthquake
Following the catastrophic earthquake at the beginning of 2023, the Managing Board of VIG Holding decided to donate EUR 1 million in emergency aid to the Red Cross. In addition to this amount, a further EUR 500,000 was provided to each of the aid funds set up by the two local VIG companies, with the aim of supporting the affected employees and their families.
Key figures for 2022
The financial figures for 2022 demonstrate VIG's strong performance. A new accounting system will be used from 2023 onwards.
Highlights
Result before taxes: EUR 562.4 million (+10.0%)
Group premiums EUR 12.6 billion (+14.1%)
Combined ratio: 94.9%
EUR 3.58 Earnings per share
Top result in a challenging environment
Dividend per share of EUR 1.30
A dividend of EUR 1.30 per share will be proposed at the Annual General Meeting under the dividend policy which foresees a distribution of 30% to 50% of Group net profits to shareholders.
Solvency ratio of 280%
VIG continues to have excellent capital resources.
EUR 829.2 million in green bonds
VIG takes social and environmental criteria into account in its investment strategy.
New financial reporting
New balance sheet and income statement, plus new key figures: The IFRS 9 and IFRS 17 standards will change VIG's reporting practices from 2023. A teach-in with CFRO Liane Hirner and further information can be found at www.vig.com/IFRS-17-9