Protecting what matters
Dear Shareholders, Ladies and Gentlemen!
The year 2020 will likely be remembered by all of us for a long time to come. The worst pandemic in 100 years led to the worst economic crisis in 90 years. VIG Insurance Group managed to make it through these difficult times comparatively well. We showed that we are resilient and able to withstand unforeseeable events. This stability is our greatest asset, as it is needed for us to keep our promise of protecting what matters. It is essential in order to be a reliable partner for our customers, investors and all other stakeholders at all times.
We have succeeded in achieving profitable growth over the years. We owe this to our long-term strategy, which ensures stability, and our flat hierarchies, which let us act quickly and flexibly. They enable us to deal with unforeseen developments as well as special local circumstances. This combination of a long-term strategy and flexibility proved to be particularly effective in 2020, allowing us to deal with this exceptional situation in the best possible way.
Economic stability is not simply due to good key figures. Agenda 2020, our strategic work programme from 2017 to 2020, had one goal above all others, namely keeping our business model fit for the future in a world of change. Our sustainability strategy also shows that we think in terms of generations. We continuously monitor long-term trends in all our lines of business, from climate change and demographic trends all the way to the digital transformation. Ultimately, however, our actions are governed by our values: proximity to our customers and responsibility, as well as diversity, which is part of the DNA of our Group. Our diversity across countries, brands, products and distribution channels has helped us manage risks better and deal with turbulence in individual areas, especially in 2020.
Solid results and dividend
VIG Insurance Group's business operations achieved solid performance in 2020, in spite of the exceptional situation due to the pandemic. New business was particularly affected by the first lockdown period in the spring. The countries in Central and Eastern Europe (CEE) were more affected by the second wave of infections than Austria and the ­Western European countries. We recorded a total premium volume of EUR 10.4 billion in 2020, once again exceeding the 10 billion treshold and increasing Group premiums slightly by 0.3%, thanks to a strong start into the year.
The result before taxes of EUR 345.9 million was greatly affected by the decrease in the financial result due to the ­COVID-19 pandemic. In addition, the result takes into account the goodwill impairments for the Bulgarian, Croatian and Georgian markets in the first half of 2020. These were the result from the event-­related goodwill review in connection with COVID-19. The combined ratio development was particularly pleasing in 2020. At 95.0%, our goal of reducing it to around 95% in the medium term was achieved in 2020.
In view of the solid results that were achieved in spite of the environment and our continued good capitalisation, we will propose a dividend of 75 cents to the Annual General Meeting. We are committed to being a stable, reliable partner for our shareholders and allowing them to participate in the performance of the Group. We have paid a dividend every year without exception since 1994, even during the financial crisis of 2007 and 2008. We want to continue this positive track record – considering the specific situation and the interests of all stakeholders.
Aegon acquisition: Consolidating our leadership position
VIG Insurance Group further consolidated its leading market position in Eastern Europe in 2020. In November, we signed a share purchase agreement with the Dutch company Aegon N.V. to acquire its companies in Hungary, Poland, Romania and Turkey. This is a major step for us. It will increase our customer base by 4.5 million. We will become the market leader in Hungary for the first time, and enter the Turkish life insurance market. Also, acquiring the pension fund companies in Hungary, Poland and Romania will strengthen our activities in the area of retirement provisions. Due to demographic trends, particularly in Central and Eastern Europe, the potential for growth is good in this area. It is also in line with our goal of enabling our customers to live a safer and better life – and therefore also being a partner for asset accumulation and retirement provisions. We expect the ­acquisition to be formally concluded in the second half of 2021. This underscores the fact that we are well positioned and can take advantage of growth opportunities in the region at any time – even in exceptional periods.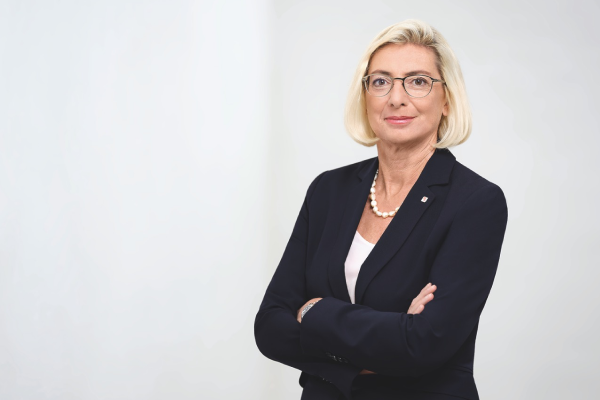 Agenda 2020: A foundation for the future
Our strategic work programme Agenda 2020 significantly increased the Group's future viability and created a foundation for future success. The measures we implemented from 2017 to 2020 increased our profitability, with systematic anti-fraud management, closed file review and company mergers improving operating performance and reducing our combined ratio. We also implemented measures to expand lines of business – from bancassurance to health insurance – and open up new business opportunities. We are continuing, for example, to expand our assistance services and reinsurance business. And we are working intensively with start-ups to create innovative products and services that satisfy new customer needs. We have been promoting the digital transformation throughout the Group for years. ­Under Agenda 2020, we invested around EUR 200 million and there were more than 180 digitalisation projects. The following are a few of the current highlights. Beesafe, our own Group start-up, brought the first completely digital motor vehicle insurance policy to the market in Poland. We made an investment in the ViveLaCar subscription car platform. And the Austrian insurance company Wiener Städtische used our own shared viesure innovation hub to expand its digital healthcare services, even during the COVID-19 pandemic, and introduced its "Losleben" app to the market.
Further acceleration of the digital transformation
The great progress we achieved in ­digitalisation has proven its value during periods of lockdown and social distancing. From one day to the next, thousands of employees in our companies switched over to working from home. Email, video calls and even the good old telephone were used to communicate with each other and provide customer support. This allowed us to successfully maintain our business operations. The ­COVID-19 pandemic further accelerated this transformation at the same time. Many customers increased their use of digital channels, or began using them for the first time, in order to communicate with us, buy policies or submit claim ­notifications – and they noticed how quick and easy this is. Many employees have also developed a liking for their home office. According to a survey conducted at VIG Holding, 94% of the ­respondents who participated in the ­survey would like to continue working from home more in the future. We therefore develop a concept to allow mobile work to continue even after COVID-19. This will make us more digital, more ­flexible and faster – and, above all, an even more attractive employer.
Continuing our successful strategy
The strategy update we present in the 2nd quarter of 2021 will focus on ­continuing the successes achieved in these areas. Our programme will continue to aim for cost efficiency, digitalisation and profitable growth. Our regional focus will remain on Central and Eastern Europe – and, 30 years after the start of our expansion into the CEE region, this is more important than ever before. We will be supported by Hartwig Löger, who previously worked on the strategy update in an ­advisory capacity and has been a member of the Managing Board since the beginning of 2021, where he contributes his 35 years of insurance experience and good knowledge of the CEE region.
Given current conditions, the outlook for 2021 is highly uncertain. It is still not possible to estimate the medium-term economic effects of COVID-19. We have handled this exceptional situation well so far and believe our home region of Central and Eastern Europe offers good long-term growth potential. Before COVID-19, for many years economic growth in the CEE region was on average twice as high as in Western Europe. Based on ­forecasts by economic experts, we expect this will continue to be the case over the long term. Our excellent position in the region will allow us to continue benefiting from the ongoing economic catch-up process and existing growth potential.
Our mission remains unchanged, even in exceptional times: protecting what ­matters! That is what our more than 25,000 employees, whether in the office or virtual, are working for in all our markets. On behalf of all of them, I would like to thank you, our shareholders, business partners, customers and all our stakeholders, for your interest and confidence in our Group.
Stay healthy!
Yours sincerely,
Elisabeth Stadler
Chairwoman of the Managing Board