Managing Board views on ESG in VIG
VIG Insurance Group has focused on sustainability, the long term and the spirit of community ever since it was founded. Also today, environmental, social and governance (ESG) factors continue to play a central role. This can be seen in its core values – diversity, responsibility and customer proximity – and its sustainability strategy. But what does that actually mean for the individual lines of business? The members of the Managing Board of VIG Holding provide their views on this here. Further information is available in the current (PDF:) Sustainability Report.
What importance does sustainability have at VIG and how is it practiced in your area of responsibility?
Elisabeth Stadler

Liane Hirner

Peter Höfinger

Gerhard Lahner

Gábor Lehel

Hartwig Löger

Harald Riener

Peter Thirring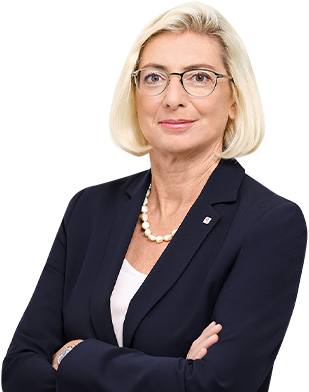 Elisabeth Stadler,
CEO/Chairwoman of the Managing Board
Areas of responsibility:
Management of the VIG Group, Strategy, General Secretariat and Legal, Corporate Social Responsibility, Affiliated companies department, European Affairs, Group Communications & Marketing, Group Sponsoring, Bancassurance and international partnerships, Human Resources
"We protect what will matter"
Why and how are ESG factors integrated into the VIG Group strategy?
Sustainability is a key element of the strategy of VIG Insurance Group. Although every company has to ensure its long-term stability, it is particularly important for us as an insurance company. We protect what matters – and what will matter tomorrow. Our stakeholders can rely on us as a reliable long-term partner.
How do we achieve this? By monitoring long-term trends and reacting to them at an early stage. For me, these currently include climate change, digitalisation and demographic change.
"Our stakeholders can rely on us as a reliable long-term partner."
Taking a long-term view also means taking a broad view. No person – and no company – is an island unto itself. Profitable growth is important, so that we can fulfil our promise tomorrow and in the future to come. But more is needed, namely a healthy environment, functioning society and a system of responsible corporate governance. Our Code of Business Ethics sets down the principles that guide our actions.
We prepared a sustainability strategy in 2017. It was based on materiality and impact analyses that identified issues that were highly relevant to stakeholders and where the Group had a major impact. These analyses formed the basis for our sustainability strategy, which includes five priority areas: core business, customers, employees, society and the environment. This ensures that ESG factors are taken into account in all areas, from the investment process to underwriting and human resources policy, all the way to our involvement in local communities in Central and Eastern Europe.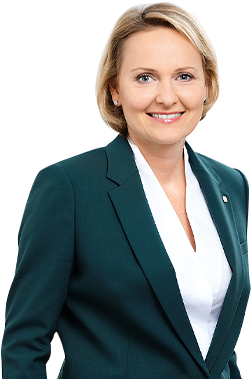 Liane Hirner, CFO
Areas of responsibility:
Finance and accounting, Enterprise Risk Management, Asset-Risk Management, Data Management & Processes
"We have a comprehensive risk management system."
How does VIG Insurance Group deal with sustainability risks? How does the VIG Group create a working environment that allows every employee to follow their ideal development path?
You need a strong risk culture to achieve long-term success in a risky world. Dealing with risks is part of VIG Insurance Group's core business. We therefore have a comprehensive risk management system. We are also working to integrate non-financial risks more and more into our traditional risk management.
We inherently deal, for example, with natural disaster scenarios such as storms, flooding and earthquakes. Global warming, however, is causing an increase in the frequency of extreme weather events, such as heat waves and heavy rainfall. In 2019, we therefore also began performing special analyses to estimate the impact that a climate-related increase in the frequency and size of losses would have on the different lines of business. Among other things, the results affect how much reinsurance we purchase to ensure adequate coverage at all times.
Diversification is not simply an important part of our risk management. Diversity is a fundamental value for VIG Group and therefore also for our sustainable human resources policy.
This is due to our commitment to diversity. We value different experiences and perspectives and feel that they enrich the Group. VIG Insurance Group therefore creates an environment where every employee can follow their optimal development path. Our diversity strategy focuses on gender, generations and internationality. And this is having an impact. Within the Group, women hold 25% of the managing board positions and around 46% of the positions at the second management level. The "Financial Times" included VIG Group in its list of "Diversity Leaders 2021". According to "Forbes" magazine, VIG Insurance Group is one of the World's 750 Best Employers. We are also the only Austrian financial services provider in the list.
25%
of the managing board positions in the Group are held by women.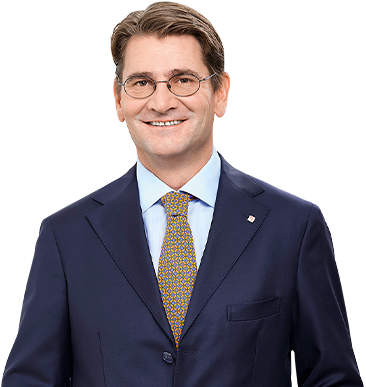 Peter Höfinger
Areas of responsibility:
Corporate and large customer business, Vienna International Underwriters (VIU), Group Reinsurance
"We are taking steps to adjust our business model to climate change."
What importance does climate change have for VIG Group and how is it reacting to it?
Global warming – followed by digitalisation – is the trend that will have the greatest impact on the future of our economy. We are already seeing an increase in extreme weather events due to climate change.
VIG Insurance Group takes a sustainable, long-term view. We are therefore taking steps to adjust our business model to climate change. The climate change strategy we introduced in 2019 was a major step in this direction. We are reducing our investments in the coal sector, and at the same time we are not issuing any new policies for coal mining and coal power plant projects. Existing policies are being gradually reduced. In 2020, we reduced our coal risks in the corporate and large customer business by 60% compared to the previous year.
I am convinced that underwriting is an important lever for helping to move the economy in a more environmentally sustainable direction. We use this lever by offering insurance for innovative, sustainable technologies. We have provided insurance for renewable energies, such as wind, hydroelectric, photovoltaic and biomass power, for many years in Central and Eastern Europe – and are now among the leading providers in this area.
VIG companies are reducing their environmental footprint in many ways. Energy use has been reduced with LED lighting, and plastic bottles and unnecessary printouts have been eliminated to reduce resource consumption. And meetings are increasingly taking place online – also due to the pandemic – reducing the need for business travel.
60%
VIG Insurance Group reduced its coal risks in the corporate and large corporate business by 60% in 2020.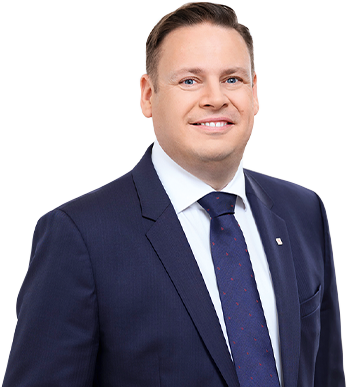 Gerhard Lahner
Areas of responsibility:
Asset Management, Asset Liability Management, Group Treasury
More capital for environmental and social projects
How does VIG Group integrate ESG factors into the investment process?
VIG Insurance Group manages around EUR 37 billion in investments. That places a great deal of responsibility onto the VIG Insurance Group, not just to our customers, but also to society and future generations. Where and how this money is invested affects the direction of economic change. The VIG Group therefore integrates social and environmental factors into its investment process.
Under the VIG climate change strategy, we committed to completely eliminating direct investments in the coal sector in order to promote the transition to a low-carbon economy. Since May 2019, we have no longer bought shares or bonds from companies in the coal sector, such as mining companies and power plants. By 2025, existing investments will be reduced by significantly more than a half compared to 2019, and will be completely eliminated from the portfolio by the end of 2035 at the latest.
At the same time, we are increasing our investments in sustainable projects. VIG companies, for example, are providing capital for increasing renewable energies. Our holdings of green bonds more than tripled from 2018 to 2020. Our commitment to social housing is another priority. Through its investments in non-profit building societies, VIG Insurance Group indirectly provides more than 100,000 homes at affordable rents.
We also successfully issued our first sustainability bond in the first half of 2021. This senior bond has a volume of around EUR 500 million and was placed with domestic and foreign investors. The capital received will be used to increase investments in social and environmental projects, while at the same time strengthening the long-term capital planning of the Group.
EUR 238.2 million
VIG Insurance Group invested EUR 238.2 million in green bonds, which are used to finance environmentally-friendly projects, by the end of 2020.
Gábor Lehel
Areas of responsibility:
Actuarial Department, Personal Insurance
New products for an ageing society
How is VIG Insurance Group responding to demographic change?
Demographic change will have a massive impact on the social systems in European countries. The share of the population over the age of 65 will increase significantly in coming years in Central and Eastern Europe. This is predominantly due to increasing life expectancy and falling birth rates. Therefore, expenditures for pensions, and also for medical treatment and nursing care, will increase.
The products offered by VIG companies supplement the state security systems, thereby helping to eliminate the risk of gaps in future provisions. Private life insurance, for example, is the only financial product that guarantees a lifelong pension. Expanding insurance solutions and services in the area of healthcare, such as innovative e-health products and services, is also a strategic priority for VIG Group. Health and retirement provisions offer great growth potential for private insurance companies. We also promote social awareness of the challenges posed by demographic change at the same time. One example is the Austrian "Carer with a Heart" initiative used by our principal shareholder and Wiener Städtische to promote the job profile of carers.
"The products offered by VIG companies help to eliminate the risk of gaps in future provisions for pensions, healthcare and nursing care."
Our unit-linked life insurance products that include ESG criteria in their investment approach provide for the future in two ways, by providing security for our customers in their old age and investing in the future of the planet at the same time. In 2020, for example, the VIG company Wiener Städtische put the first fund policy on the market to be awarded the Austrian ecolabel. The premium payments are invested into funds that only invest in companies that make an active contribution to environmental, climate and animal protection and take care to make efficient use of natural resources.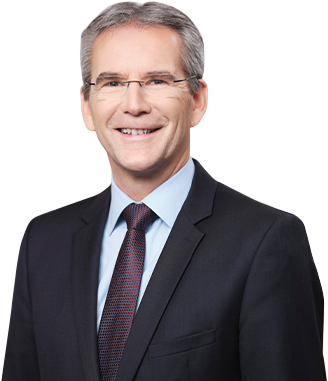 Hartwig Löger
Areas of responsibility:
Group Development and Strategy, Planning and Controlling
Innovation and reliability go hand in hand
What does sustainability mean for VIG Group when dealing with its customers? And what role does digitalisation play in this?
Customer satisfaction is a key concern for our insurance companies, and requires a high degree of reliability over long periods of time. After all, we promise to provide more than 22 million customers with benefits that are often received decades in the future. It also requires a great deal of customer service in the here and now. We also have to take new needs and realities of life into account.
Digitalisation follows climate change as the second biggest challenge that will determine our future. The digital transformation taking place within VIG Group is affecting both internal processes and workflows and the design of our products and services. In a few years, half of our potential customers will belong to generation Y. They have grown up with the Internet, have significantly higher expectations with respect to the range of choices and service available, and expect an insurance partner who fits into their flexible digital world. The COVID-19 pandemic also changed the demand for digital solutions.
Many of our projects are developing new solutions to provide greater value for our customers and make communication faster and easier. On average, VIG companies have 180 digitalisation projects underway. They receive support from the VIG Digital Hub established by VIG Holding. Our cooperation with the Silicon Valley innovation platform Plug & Play allows us to work with more than 15,000 pre-screened start-ups. The Group-internal innovation competition VIG Xelerate also promotes digitalisation projects. All these initiatives help in the search to find new solutions, while also creating a culture of openness and innovation at the same time.
180
VIG companies have around 180 digitalisation projects underway aimed at, for example, developing innovative services for customers.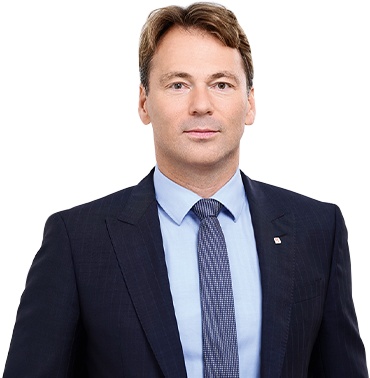 Harald Riener
Areas of responsibility:
Sales Initiatives Customers & SME, Assistance
"We promote solidarity and understanding"
Why is the VIG Group involved in projects that create social and cultural added value? Which projects in particular does it support?
In the long run, companies can only achieve success as part of a functioning society. This naturally also applies to VIG Insurance Group. We therefore support the local communities in our markets. In particular, we support projects that promote solidarity and mutual understanding. This is particularly important for us as a corporate group that consciously focuses on diversity and respect for local cultures and different experiences, because diversity can only bear fruit if it goes hand in hand with understanding and solidarity.
Our involvement is just as diverse. The individual VIG companies decide where they want to put their efforts and adjust their activities to meet local needs and circumstances. Our principal shareholder Wiener Städtische Versicherungsverein acts as a partner in many projects.
In 2020, many companies used aid programs to respond to specific emergency situations caused by the COVID-19 pandemic. Other long-standing projects that have been popular for many years could not take place under these extraordinary conditions, such as the "VIG Kids Camp", which provided an opportunity for around 500 children from 23 countries to participate and make new friends in 2019.
The "Social Active Day" brought to life by our principal shareholder Wiener Städtische Versicherungsverein also took place under different circumstances. All VIG employees can devote one working day each year to volunteer for a good cause. Many activities, such as providing help in a residence for people with disabilities, were not possible in 2020. But there were still many ways to become socially involved even under the constraints of social distancing. 2,300 employees in 14 countries participated in the "Social Active Day" in 2020.
2,300
employees participated in the "Social Active Day" in 2020.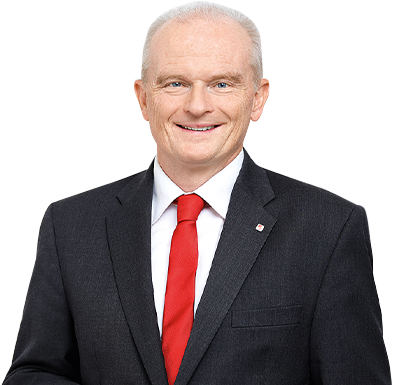 Peter Thirring
Areas of responsibility:
Motor and Property Insurance, External Incoming Reinsurance, Group IT, Business Organisation
Good rules, good business
How does VIG Insurance Group ensure responsible conduct in all of its companies?
The steady increase in regulatory requirements at both the European and local levels and the resulting need for action is one of the biggest challenges facing the VIG Group from a compliance perspective. We have to support the VIG companies in preparing for and implementing legal requirements in a timely fashion, while at the same time ensuring and monitoring compliance. The Group Compliance unit was therefore provided additional resources with country and area responsibilities. The Group-wide compliance management system is continuously developed to ensure compliance with all rules.
These rules also include the Group-wide Code of Business Ethics, which was extensively revised in 2019. It includes 15 principles for compliance with legal, regulatory and internal requirements ranging from the protection of human rights, non-discrimination and environmental protection all the way to data protection and the prevention of conflicts of interest, corruption and money laundering.
With respect to money laundering, this special risk has been addressed by implementing a comprehensive anti-money laundering system in all the life insurance companies in the Group. Nearly 30 local anti-money laundering officers ensure compliance with local requirements and implementation of the Group-wide anti-money laundering guideline, and receive support from a Group Anti-Money Laundering Officer appointed at the VIG Holding level.
"The Group-wide compliance management system is continuously developed to ensure compliance with all rules."
I would also like to mention information security and the protection of sensitive data that is entrusted to us as an insurance company. These topics are becoming particularly important in this digital age. A data protection management system ensures that necessary technical measures are implemented within the VIG Group. Monthly reporting on IT security incidents also helps us immediately correct any weak spots. In addition to our IT security guideline, also the data protection guideline applies. At the same time a data protection coordinator maintains a regular exchange of information with local data protection officers since the autumn of 2020.